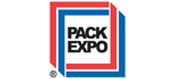 PACK EXPO - PACK EXPO
11/6/2016 -> 11/9/2016
Chicago, IL - USA (AMERICA)
PACK EXPO International focuses on the latest developments in packaging technology and showcases exhibitors' state-of-the-art advances in packaging machinery, converting machinery, materials, packages and containers, components.
This is the largest, most effective show for our industry. From engineers to maintenance, everyone is at this show." – Jan Visser, TBC, Markem Imaje
PACK EXPO
International and co-located Pharma EXPO provide the best, most effective exhibiting experience in the processing and packaging industries. As an exhibitor, you can:
Reach 50,000 industry professionals in one place—plus thousands more who visit the show website.
Expand into new markets. Buyers come from 40+ vertical industries.
Establish a global reputation. 7,000 buyers come from outside the United States.
Meet decision makers from across the supply chain.
You won't find buyers with these qualifications, in these numbers, at other events.
72% of attendees either specify/recommend or make the purchasing decision.
89% want to see new types of machinery, technology, materials and containers.
71% want to develop new relationships with vendors.
68% attend no other show.
PACK EXPO
International is the only place you'll see them
More than 2,300 suppliers and providers of processing and packaging equipment and materials and other supply chain innovations will exhibit at
PACK EXPO
In 2016,
PACK EXPO
International will be world's largest processing and packaging event. Along with co-located Pharma EXPO,
PACK EXPO
International will bring together:
50,000 attendees from 40+ vertical markets
7,000 international buyers from 130+ countries
More than 2,300 exhibiting companies
The show floor, spanning 1.2 million net square feet, buzzes with machinery in action, interactive learning hubs and networking lounges.
More than any other event in North America,
PACK EXPO
International offers attendees the chance to meet with multiple suppliers, explore the possibilities for their industry and get ideas from other markets, including:
Automotive
Baking & Snack
Beverage
Chemical & Industrial
Confectionery
Container Manufacturing
Dairy
Electronics
Fresh Produce
Fruit & Vegetables
Furniture & Fixtures
Grain, Mill, Cereal
Hardware & Tools
Household Products
Meat, Poultry, Seafood
Metals
Paper, Printing
Personal Care
Petroleum
Pharmaceutical & Medical Devices
Prepared Foods
Textiles & Apparel
Tobacco
Toys, Sports, Crafts
---
News da itfoodonlineblog
IT AUCTION SELLS
5/13/2016 4:00:09 PM
AZ Surgelati Spa – COMPANY SALE View details on www.industrialdiscount.com – auction 1183 Bankruptcy n.22/2015 – Court of Santa Maria Capua Vetere Sale of company AZ SURGELATI S.p.A. in liquidation having as company object the production, quick-freezing and packaging of pizza, located in Agglomerato Industriale San Marco – 81100 – Marcianise (CE). The assets include:…