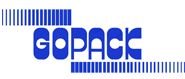 GOPACK d.o.o. NOVA GORICA - MACCHINE CONFEZIONATRICI - VERTICAL PACKAGING MACHINES
Cesta IX. Corpusa 96 - SI5250 Solkan- SLOVENIJA
The company Gopack produces a wide range of vertical packaging machines and horizontal packaging machines which form, fill and seal the widest range of bags by using a broad variety of dosing units.
The Gopack machines are developed and designed according to the demands of each individual customer and ensure a high production efficiency and low maintenance costs. The company, in order to meet the growing market demand for packaged bread and bakery products, has designed and manufactured complete high-quality primary and secondary packaging lines to pack fresh bread, pastries and bakery products.
The Gopack machines can pack bakery products also in modified atmosphere with the aim to preserve their freshness and fragrance. Gopack collaborates with various packaging material manufacturers as it is of essential importance to have a high-quality and good-looking package in order to meet the final customer demands and therefore the choice of the packaging film that protects the products is crucial.
INFORMATION:
Main Production:
Vertical packaging machines, horizontal packaging machines
Applications:
Food industry
CONTACT GOPACK d.o.o. NOVA GORICA - MACCHINE CONFEZIONATRICI
News da itfoodonlineblog
IFFA 2016 sets new records: more exhibitors, more visitors and a higher level of internationality!
5/30/2016 8:33:22 AM
IFFA 2016 sets new records: more exhibitors, more visitors and a higher level of internationality at around 66 percent! Visitors and exhibitors extremely pleased with the fair IFFA confirmed as the world's leading trade fair for the sector IFFA – The No. 1 for the meat industry – closed its doors today after six successful…