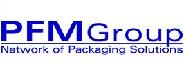 PFM GROUP - PACKAGING MACHINERY
Via Pasubio, 49 - 36036 Torrebelvicino (VICENZA) - ITALY

PFM Packaging Machinery is an industrial group made up of seven companies: The Italian parent company, PFM Packaging Machinery, which works alongside the UK PFM LTD, Canadian PFM Corporation USA & Canada, and German PFM Germany companies. BG Pack SPA, which is based in Bergamo, specialises in manufacturing special packaging machines for resealable packaging. MBP, a company based in Mantua, specialises in the production of multi-head weighers and vertical packaging machines thereby completing the range offered by PFM. Last in order of acquisition is SPS Italiana Pack Systems, which has come back into the hands of those who founded the company after exchanging ownership a number of times: this Company from Novara manufactures automatic handling and packaging machines for baked goods and biscuits.
An extremely high level of specialisation of the individual manufacturing units, perfect integration between the individual technical departments, which however remain independent, Vision 2000 organisation of marketing and after-sales areas, these are a few of the factors which have helped the
The PFM Group meets all the requirements of flexible packaging in all the food and non food industries and has made a major name for itself on the world market.

INFORMATION:
Main Production:
Flexible packaging machines, weighers horizontal flow pack, flow wrap packaging machinery, vertical form fill seat machinery,multihead weighers, automatic packaging lines.
Complementary production:
Mechanical components for packaging machines
Applications:
Bakery, confectionery, preserving, meat, dairy and non food industries
Turnover:
65 million of euros for 2007
Number of employees:
280 employees
Certifications:
UNI EN ISO 9001-2000 (Vision 2000)
Geographic export areas:
worldwide
Subsidiaries in the world:
UK, Germany, USA & Canada
Assistance:
on site & on line
News da itfoodonlineblog
Ing. Enea Mattei SpA has acquired British company Winton Engineering, the vehicle mounted power solutions provider.
7/1/2015 8:47:36 AM
This bolsters Ing. Enea Mattei's presence in the vehicle sector, consolidating its global leadership Through its UK subsidiary Mattei Compressors Ltd, Ing. Enea Mattei recently acquired Winton Engineering, with headquarters in Great Britain, established in 1985 and specialised in using the power of vehicle engines to drive auxiliary equipment, delivering compressed air and electrical power,…