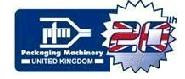 PFM Packaging Machinery LTD UK
PFM HOUSE 2, Pilgrim Way Stanningley - LS286L LEEDS - UNITED KINGDOM

PFM Packaging Machinery Limited is the UK headquarters of PFM. Founded in 1987, PFM is a leading company in the UK in the cheese packaging industry. Specialised in the manufacture and after-sales servicing of horizontal and vertical machines, multi-head weighers and automatic feeding and packaging lines, it serves markets in the United Kingdom and the Republic of Ireland. The object of the Company is to market and sell of the entire range of packaging machines manufactured by the Group in the UK, without neglecting the consistent efficiency of the servicing provided, which is considered so important for PFM Packaging Machinery Limited as to warrant a good number of highly qualified being employed in this area and a certificate of merit being awarded for the After-Sales service in 2001, the "PPMA" prize. The after-sales service comprises 6 specialised engineers headed by a Service Manager, a Sales Support Manager and a Spare Parts Manager. The spare parts department has a stock worth £400 K which testifies to the Company's commitment to supply spare parts in the shortest time possible. Although the Company is completely independent, PFM UK staff may receive support from After Sales Engineers from PFM Italia. The technical staff are constantly updated and trained by means of specialisation courses organised by the Company Management, while Sales Management organises annual visits to the 4 Italian companies PFM SPA, MBP, BG PACK and SPS.
INFORMATION:
Main Production:
flexible packaging machines, weighers
Complementary production:
mechanical components for packaging machines
Applications:
bakery, confectionery, preserving, meat, dairy and non food industries
Company establishment date:
1987
Turnover:
65 million of euros for 2007
Certifications:
UNI EN ISO 9001-2000 (Vision 2000)
Geographic export areas:
worldwide
Subsidiaries in the world:
UK, Germany, USA&Canada
Second-hand management:
on site & on line
CONTACT PFM Packaging Machinery LTD UK
News da itfoodonlineblog
LOGITRANS: The Reel Rotator from Logitrans lifts and rotates reels of up to 500kg!
9/3/2015 9:22:19 AM
Heavy reels no problem! The Danish manufacturer of material handling equipment, Logitrans A/S, now introduces a Reel Rotator! The perfect choice when transporting, lifting and rotating heavy reels! "It is hard, uncomfortable and often impossible to lift and rotate reels without help – and many enquiries have now led us to develop the Reel Rotator.…