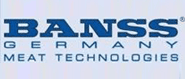 BANSS
Schlacht- und Fördertechnik GmbH - D - 35 Biedenkopf

BANSS Schlacht- und Fördertechnik GmbH has a rich tradition and a successful 135 year history. Our specialists in Biedenkopf, Hessen, develop, design and produce cutting-edge industrial systems that are used across the world. Our customers, coming from all parts of the globe, trust in our specialist expertise, innovativeness and quality. Our position and resulting experience as a global technology provider has enabled BANSS to meet the specific local requirements of large and small meat processing companies across the world. BANSS supplies cutting-edge slaughtering and meat processing systems as well as storage and cooling room transport systems for cattle, pigs and sheep. All of our systems – regardless of their level of automation – comply with all relevant animal welfare, hygiene, ergonomic, occupational safety and quality requirements. Each one of our systems optimises both human labour and investment costs. BANSS has now been collaborating with research and development institutions for many years in order to transform the latest scientific insights into innovative system solutions.
News da itfoodonlineblog
IFFA 2016 sets new records: more exhibitors, more visitors and a higher level of internationality!
5/30/2016 8:33:22 AM
IFFA 2016 sets new records: more exhibitors, more visitors and a higher level of internationality at around 66 percent! Visitors and exhibitors extremely pleased with the fair IFFA confirmed as the world's leading trade fair for the sector IFFA – The No. 1 for the meat industry – closed its doors today after six successful…