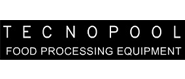 TECNOPOOL Spa
Via M. Buonarroti, 81 - 35010 San Giorgio in Bosco (PADOVA) - ITALY
Tecnopool has designed a range of installations that are reliable, versatile, efficient, technologically advanced and totally automatic. These installations feature high productivity rates in handling, proofing cooling, deep-freezing, pasteurising, seasoning and warming all kinds of food products.
Tecnopool installations can also be integrated into existing plants, including those constructed by other manufacturers.
Thanks to their considerable versatility it is also possible to carry out modifications at a later date, to adapt the installations for newer production requirements, withou necessarily incurring heavy investiment costs.


INFORMATION:
Main Production:
Installations for handling, proofing ,cooling, deep-freezing, pasteurising, seasoning and warming
Applications:
Food processing
Company establishment date:
1980
Geographic export areas:
Worldwide
News da itfoodonlineblog
EXTRASORTER JET: A LINE OF SORTERS FOR OLIVES
3/6/2015 11:51:27 AM
EXTRASORTER JET: A LINE OF SORTERS FOR OLIVES EXTRASORTER JET: A LINE OF SORTERS FOR OLIVES Extrasorter Jet Table olives and oil olives Extrasorter is the most widely used optical sorter on the market for olives. The optical system is capable of identifying fruit by their colours and of separating them for a variety of…