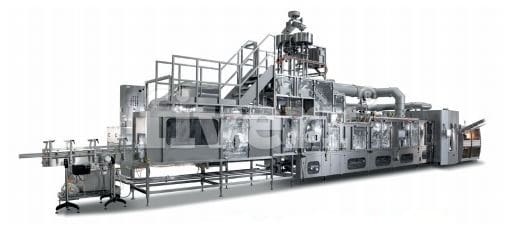 Weightpack's future outlook continues in the direction planned by the founder, Carlo Cormiani, by running ahead of its time and satisfying the new challenges in the field of filling sensitive and/or difficult products. The increasing speed with which technology continues with its development, demands a running investment and commitment towards research and development: a constant for Weightpack that favours a run ahead instead of running after new innovations.
Weightpack will move further in the coming year 2019 on the way of innovation and continuous research that seeks an improvement and simplification of the standard manufacturing process for the clients. Because of its well-developed ten-year experience, Weightpack is able to adapt its solutions to the special conditions of the clientele, whereby it gives special attention to changes that the market requires. Filling of a net weight confirms the advantages of its precision work, lack of contact with the container, the optimisation of fluid mechanics for bottling outlet (the instrument is far beyond the valve and thus does not impose any restrictions on the design).
In accordance with the advantages of a net filling, the tankless technology enables a quick product change and therefore an intensive production process and reduces idle time. This system pushes for an optimisation of the intermediate processes that are not directly connected with filling: the absence of a container transforms into another advantage for all companies that wish to operate typical time intervals for conventional systems flexibly, i.e., without being enforced by technical cleaning and hygiene processes. In step with this everlasting filling progress Weightpack invested to a significant extent in technologies for sensitive food stuffs. For over ten years the company has been working on developing more comprehensive procedures that are required for using a higher net filling precision while packaging food stuffs with longer life time. The tested filling methods thus range from sour products distributed in a cold product chain to the less sour milk and cheese preparations that can be distributed without cooling. The new challenge of the Italian manufacturing company lies in rationalising transitions while filling sensitive products that originate from any pre-forming of PET containers combined aseptic system: one for the long life cycle market of already completed containers is thereby manufactured in an exclusive, compact, efficient and environment-friendly machine.
Weightpack is also careful about customer care and shall endeavour to ensure that the relationships proceed not just commercially but in collaboration:
thereby resulting in a partnership that provides for a common growth and development in which the partners have a useful interaction. In this specific sense, Weightpack promoted the creation of a test area effective in its working space, that enables a continuous quality control as it is designed for long-term trials and review checks with maximum confidentiality (The room is shielded and protected by security systems, that is permissible only for responsible personnel).
Furthermore, it WP allows the clients to pursue processes themselves in the test area over a communication system, which guarantees an optimal, cooperative transparency for direct conversation with partners. Realising these strategies puts Weightpack in the upper echelons of the companies that have provided innovations in the field and still show beat and rhythm in market development and the technologies dedicated to them.
The fascinating challenge lies in the opportunity to be able to offer the continuous and fluid development that the sector demands and entrusts itself to everlasting research that can always assure innovative and above all personalised solutions thanks to its rich experience.
www.weightpack.com