IGUS SRL

- SELF-ALIGNING SPHERICAL BEARINGS

Via delle Rovedine, 4 - 23899 Robbiate (LECCO) (ITALY)
SELF-ALIGNING SPHERICAL BEARINGS
Günter Blase began igus® back on 15th October 1964 in a double garage in Cologne. For the first 20 years, the company worked as a supplier of complex technical polymer components.

However, in 1983 Frank Blase established reinforced plastic Energy Chains Systems® and injection moulded polymer bearings as two distinct product groups and set up a network of sales engineers. These seemingly unrelated products are linked together through the belief in making functionally advanced, yet affordable polymer components and assemblies.
Igus produces a wide range of Self-aligning spherical bearings.
FOTO DI
SELF-ALIGNING SPHERICAL BEARINGS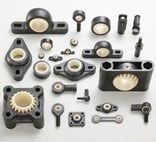 igubal® is a system Self-aligning spherical bearing elements completely made of plastic.

With the igubal® type series, a complete system of Self-aligning spherical bearings elements are available for the design engineer: Rod end bearings, clevis joints, flange bearings, spherical bearings and pillow
Self-aligning spherical bearings are easy to mount, suit all angular variations and in many cases have already been able to replace special housings.


The igubal® user utilizes all advantages of the employed high performance plastics. They have excellent vibration dampening properties, and are technically applicable in dry operation. They are insensitive to dirt, can operate in liquids and even in chemicals and are completely resistant to corrosion.

Bearing elements of the igubal® type series are very light, save installation space by their dimensions and save your costs twice: first in procurement and second in operation by the saving of maintenance and installation costs.
Between 1985 and 2015, igus® has grown from 40 to more than 2700 employees distributed between the head office in Germany and 26 subsidiary companies around the world. igus® also has representative partners in more than 69 other countries. igus® will continue to invest in expansion in the coming years, thanks to the opportunities for growth provided by modern materials.