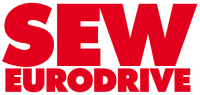 SEW-EURODRIVE

- MOTORS AND FREQUENCY CONVERTERS

Via BERNINI, 12 - 20020 SOLARO (MILANO) (ITALY)
MOTORS AND FREQUENCY CONVERTERS
German SEW brand leader in mechatronics, offers customized solutions in the field of: gear motors and frequency converters, industrial gear units, decentralized systems, systems for motion control.
Gear motors and frequency converters with high efficiency energy saving.

For decentralized installation and economic, SEW offers many components that do not require installation in the control cabinet. All components meet the three most important criteria for automation systems: modularity, flexibility and economy. Such as MOVIMOT®, the gearmotor with integrated frequency converter, proves its worth for years in many applications, communicating via standardized interfaces with all common fieldbus.

News are MOVIGEAR® mechatronic drive systems and electronic motor DRC, in their many variations. Both meet the efficiency class IE4 motor (Super Premium Efficiency), they can communicate using the Single Line Network Installation (SNI) and allow a saving on energy costs by up to 50%. The MOVIGEAR® combines motor reducer, motor and electronics in a compact drive system. The electronic motor DRC allows direct mounting with all gear units of the modular SEW.