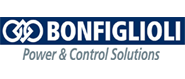 BONFIGLIOLI RIDUTTORI spa
Via Giovanni XXIII, 7/A - 40012 Lippo di Calderara di Reno (BOLOGNA) (ITALY)
In 1956 Clementino Bonfiglioli founds Bonfiglioli in Bologna, implementing an innovative approach to gearbox production.
The first gearboxes were worm drives, then conventional gearboxes and later by parallel and right-angle shaft gearboxes. In this way Bonfiglioli extended its field of expertise, breaking into the automation sector.
Bonfiglioli's specialisation in mechanical integrates in electronics, and in 2001 acquired VECTRON ELEKTRONIK GMBH, leading name in the design and manufacture of high-tech electronic drives.
Aiming to become a turnkey system supplier, in 2004 Bonfiglioli acquired Tecnoingranaggi, a company specialising in design and production of low backlash, high precision planetary gearboxes.
Today Bonfiglioli Group is a top player in power transmission and control solutions, and is known through the BONFIGLIOLI RIDUTTORI, BONFIGLIOLI VECTRON and BONFIGLIOLI TRASMITAL brands.
Until 2008 Bonfiglioli will commit in the new Italian Service Centre in Carpiano (Milan), set up to guarantee excellent service and prompt deliveries to customers in Italy.


INFORMATION
High-tech electronic drives
Power transmission and control solutions
1152 in 6 factories and 770 in the subsidiaries in the world
Spain, France, Great Britain, Germany, Sweden, Greece, Canada, Usa, Australia, South-Africa, INdia, China, Turkey
CONTACT BONFIGLIOLI RIDUTTORI spa