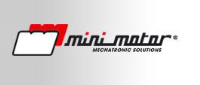 MINI MOTOR SRL

- DRIVERS

Via E. Fermi 5 - 42011 Bagnolo in Piano (REGGIO EMILIA) (ITALY)
Mini Motor manufactures DRIVERS

Mini Motor manufactures DRIVERS and electronic regulators for single-phase motors with tachometric feedback; inverters with positioning options; brushless servomotors, with and without a planetary reduction unit, and relative drives.
Every Mini Motor DRIVER must comply with specific specifications that guarantee total customer safety. This objective is pursued by using high-quality components and meticulous testing that follows each phase of the production process. The wide range available on catalogue, the customised solutions, and the ability of supplying small batches allow Mini Motor to fully satisfy all market requirements.