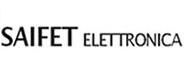 Saifet elettronica
Via Pasubio, 38 - 37069 Villafranca di Verona (VR) (ITALIA)
Electronic SAIFET (Studio Associated Fontana and Targa Engineers) is a young, dynamic company that conducts consultancy, design and implementation of customer-specific electronic cards and equipment.
It is born with the goal of providing all companies with a flexible partner that can fully develop full projects, collaborate in the various design phases, develop and approve the technical offices already in the companies.
His collaborators have work experience in electronic design in various fields such as: power electronics and energy conversion, electronics and industrial automation, digital and analog electronics.
Thanks to the great flexibility, availability, experience gained and the tools provided, SAIFET electronic is the ideal partner to design and develop any custom electronic equipment.
CONTACT Saifet elettronica