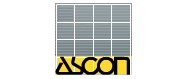 ASCON SPA
Via Falzarego 9-11 - 20021 Baranzate (MILANO) (ITALY)
Ascon is an Italian company, which has been designing, manufacturig and marketing control instrumentation and process control systems since 1969. Innovation skills and creativity make Ascon the italian leader and one of the major European players.

All Ascon's R&D, manufacturing and sales take place in Baranzate Headquarters (North Milan). To garantee a widespread commercial presence, Ascon opened up a comprehensive direct sales network troughout Italy and two branches in France and the U.S.. Ascon products are available worldwide through an highly qualified distributor network.

All sales staff attends regularly technical and commercial training as to offer an outstanding service and to sugget the most suitable solution to customers.

Since its start Ascon has been client-oriented: our highly specialised R&D deparment develops what our marketing spots as market tendency and our Customer Service collets from our clients. R&D and manufacturing can relay on technology at the state-of-the-art.


INFORMATION
Control instrumentation and process control systems