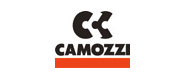 CAMOZZI spa
Via Eritrea, 20/I - 25126 Brescia (ITALY)
It was in 1964 when the three brothers Attilio, Luigi and Geromino started manufacturing components for industrial automation in Lumezzane, a small village in the Lombardy region of northern Italy.

Today, the Camozzi family continues to lead the Group with a respect for tradition that has been constant throughout our history. Our values and principles are our most important legacy for guiding our future generations.
A solid foundation for future growth and innovation has been built upon 40 years of commitment, dedication and passion. Passion has never been lacking from the Camozzi story.
The people of Lombardy have long been citizens of the world community.
We are distinguished by our history, by the mission that guides us, by the strength of our ideas, and by the people who have worked and continue to work with us, without whom the Camozzi Group would not exist.

INFORMATION
Argentina, Austria, Brazil, Byelorussia, China, Colombia, Denmark, France, Germany, Great Britain, India, Iran, Kazakhstan, Malaysia, Mexico, The Netherlands, Sweden, Russian Fed., Ukraine, USA, Venezuela