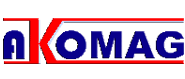 AKOMAG srl

- BOTTLING

Frazione Diolo, 15/D - 43019 Soragna (PARMA) (ITALY)
Akomag is a new reality active in project and production of bottling plant machinery and more in details bottle-washing machines, rinse-machines, sterilisation units and case-washers. The company aims to meet the needs of all those who are looking for high quality products at a competitive price.
The principal objective today is to widen the organisational structure of the company so as to match the sharp demand of the market and the increased number of orders.
Thanks to the proven experience developed in this field Akomag is capable of manufacturing machinery suitable for all end-users active in wine, mineral waters, liqueurs, beers, fruit juices and beverage production, for milk and oil and other containers, both in glass and in recycled PET.


INFORMATION
Bottle-washing machines, rinse-machines, sterilisation units and case-washers