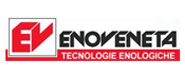 Enoveneta snc di Fiorin e C.
Via Marconi 80 - 35016 Piazzola sul Brenta (PADOVA) (ITALY)
ENOVENETA founded at the start of the 'Sixties with a handicraft structure, soon developed and specialised into one of the leading companies in the wine industry, both in national and international markets. The vast experience acquired and extensive internal research permit the company to offer its clients a range of technologically advanced machinery that continues to respect the rules and traditions of the noble art of making wine. The company's chief strength is the firm link between the various company areas: production, design and research department, commercial area. Quality, Technology and Reliability, the underlying concepts of the ENOVENETA approach to the business, have played an important role in the constant increase in the company's sales and its continuing expansion in the world's markets.
INFORMATION
machines for the wine industry
CONTACT Enoveneta snc di Fiorin e C.