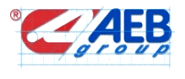 AEB spa
Via V. Arici, 104 - 25134 Brescia (BRESCIA) (ITALY)
The AEB Group owns its own research and development laboratories located in each production facility. All the R&D labs are connected and coordinated by the main laboratory, located in the Brescia's headquarter.

Beside the constant check of the raw materials utilized to produce its products and the consistent control of the quality on the finished products, the R&D laboratories constantly develop and test new products, able to satisfy the most different application needs.

The AEB Group employs about 300 people, including the personnel dedicated to the technical support for sales.

The technical support staff is able to offer a complete assistance service and a constant monitoring on production processes, to single out the most appropriate products and application systems, to realize proper optimization plans and per-sonnel training classes.

INFORMATION
Research and prodution of biotechnologies
Wine, beer and food industry, professional cleaning