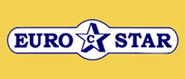 EUROSTAR SNC

- RINSERS

Regione Leiso, 86 - 14050 San Marzano Oliveto (ASTI) (ITALY)
In the spring of 1996, after many years of agent experience in the bottling market, I decided it was time to design and to build my first prototype of a filling and capping monoblock.
This machine, still in operation at a Piedmont winery, was the first step of a journey which realized my vision: to design and to manufacture machines that combine innovation and technology, performance and reliability. In short: high-quality solutions to exceed the expectations of an increasingly demanding and attentive market.
And this philosophy permeates our organization: EUROSTAR has reached important results in two decades with more than 1,200 installations worldwide, targets which immediately become the starting platforms to new challenges.
This year marks the twentieth anniversary of that decision: the motivation, enthusiasm and attention to continuous improvement remain the same and, if anything, more determined thanks to the results achieved.
I thank my team with whom I share every day this wonderful adventure.