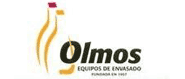 OLMOS EQUIPOS DE ENVASADO
Pol. Ind. Can Carner . Calle Terra Alta, nº 73 - 08211 Castellar del Vallès (BARCELLONA) (ESPANA)
Olmos, Equipos de Envasado, was founded in 1957 and is specialised in the manufacture of industrial equipment. It has its own design team and strives to innovate year after year, providing our clients with a comprehensive service, technical advice, project development services, the production of machinery and subsequent installation and start-up of our products, all with a fast, effective after-sales service.

Our production programme covers :

Complete packing lines, made up of washing, filling, capping, labelling and boxing equipment for all kinds of liquids and solids, such as: oils, wines, water, dairy products, juices, alcohols, perfumes, detergents, lubricants, corrosive acids, herbicides, pesticides and fertilisers, chocolate powder, animal feed, vegetables, soluble powders, pills, etc.

We supply autonomous equipment for already existing lines manufactured by our company as well as equipment adaptable to other processing lines.

Personalized projects
Rotary filling machines
In line filling machines
In line capers
Labeling machines
Caser machines
Complete lines to fill (solids)
Complete lines to fill (liquids)
etc...

CONTACT OLMOS EQUIPOS DE ENVASADO