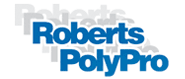 Roberts PolyPro, Inc.
5416 Wyoming Avenue - 28273 Charlotte (NORTH CAROLINA) (USA)
Bottle Handle Solutions
Roberts PolyPro is a single source provider of bottle handles and the beverage handle application equipment needed to apply the handles to your bottles.

Bottle Handle Applicators
Roberts PolyPro offer a full range of custom plastic handle application solutions to fit your business, from entry-level manual applicators all the way to high-speed continuous motion systems that integrate with your bottling line at the speeds you need. The single and multipack bottle handle applicators and beverage carrier equipment will boost your productivity plus save you money. Roberts PolyPro will work with you to help take your company's production to the next level with our state-of-the-art multipack carrier equipment, beverage carrier applicators, single and multipack beverage handles, and a custom plastic solution for bottle carriers.
The company is the industry's leader in custom multipack handles, bottle carriers, beverage handles, and multipack carrier solutions.

Bottle Handles
A full range of custom bottle handles to fit your single or multipack products. From single bottle handles to 2 pack handles ideal for club stores to 6 packs and more, Roberts Poly Pro provide custom plastic solutions and packaging handles for all your bottle multipack handle needs.

CONTACT Roberts PolyPro, Inc.