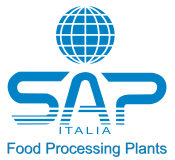 SAP ITALIA SRL

- ASEPTIC TANKS

Via Allende, 1 - 20077 Melegnano (MILANO) (ITALY)
Aseptic tanks
Passion, expertise and innovation are the keys to the success of SAP Italia. Since 1983, the company has been offering highly technological plants for the food industry.
Over the years, SAP Italia has developed a deep know-how in different fields of application and today it plays an important role in its sector as an international leader.
The wide range of SAP Italia services includes in-depth feasibility studies, comprehensive and detailed estimates, customized design according to specific requirements, software development, installation and testing, personnel training and preventive maintenance.
Thanks to constant research and various fruitful collaborations, the company is able to meet its customers' specific needs and provide them with tailored high-tech solutions, come as the aseptic tanks

The company produces a wide range of aseptic tanks
The aseptic tanks Asepto-R of SAP Italia was designed and built for storage of liquid foods which have been undergone to sterility treatment by UHT process.
The main functions of aseptic tanks are:
Keeping the appropriate quality of stored product waiting for filling process
Maintaining sterility of product
Improving usage flexibility of production plant
Feeding one or more aseptic fillers
The aseptic tanks Asepto-R is suitable for either low acid or high acid liquid food storage. Through the agitation system, the homogeneity of product has maintained also in presence of pulp or particles.
The Asepto-R CIP integrated plant completes the supply, making the aseptic tank independent and avoiding eventual contamination coming from external units.
The Control and supervising system developed by SAP Italia is user-friendly, reliable and manages automatically all the production and CIP phases;. Every variable and phase is recorded on a MMC. Datas are exportable in .CSV files. The maintenance software helps customer in keeping valves and filters monitored and suggests when to check and maintain these devices.
The heat exchanger can be provided in plates or tubular depending on the type of product to be treated .
Furthermore, SAP Italia's customers can always count on the support of a team of experts.
What really makes SAP Italia different from its competitors, is its personalized approach to every single project, which is designed upon the specific needs of different customers. By modelling and adjusting its technology, SAP Italia can contribute to its customers' success and to maximizing the results of their investment.