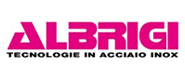 ALBRIGI SRL

- ALBRIGI

Via Tessare, 6/a - Fraz. Stallavena - 37020 GREZZANA (VERONA) (ITALY)
Albrigi srl
Albrigi Srl is the company known throughout Europe for the design and construction of facilities in highly innovative stainless steel. Born 25 years ago in Stallavena of Grezzana, the country of the province of Verona, is the focus of a new phase of growth and development that keeps pace with the changing needs of the market. In the last ten years it has specialized in particular in the food industry, providing high-quality systems for famous brands such as industry Hague, Barilla and Zuegg.

Albrigi is a leading manufacturer of systems for the processing and storage of food liquids in the pharmaceutical, foodstuff, beverage, chemical and cosmetic: the company is active worldwide.

The world speaks Albrigi Technologies and Technologies speaks Albrigi world. All continents are in the portfolio Albrigi Technologies, for all treatment and storage areas, or for some in particular. European Union, South America (Brazil, Mexico in first place), South Africa, Far East, Australia, Eastern Europe (with Russia in the front row for food and wine), North America (the US wine-making and food, Canada for the food). Where there is treatment and / or storage must be qualified Albrigi Technologies.
INFORMATION
systems for storing and fermenting wines.