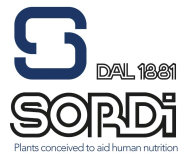 SORDI IMPIANTI

- THERMAL PROCESSING PLANTS

Via Paolo Gorini, 9 - 26836 MONTANASO LOMBARDO (LODI) (ITALY)
Thermal processing plants
SORDI design and manufactures thermal processing plants for milk, fruit juices and different drinks.
The thermal processing plants are available in different types of systems: HTST pasteurizing lines, super pasteurizing lines, UHT sterilizing lines.

The thermal processing plants are pre-assembled on platform and many be automatic or semi automatic.
The control systems are equipped with PLC Siemens with supervision HMI (Human Machine Interface) The heat exchangers can be plate type (standard or free-flow plates) or tubular (corrugated pipes).
it is also possible to inlude in-line the degaser, the homogenizer, the separator, the bactofuge, or other machines necessary for specific processing.
INFORMATION
Produces plants for the milk dairy field, drinks, juices and vegetable drinks as well as CIP (Cleaning In Place) lines both for equipment and process lines.