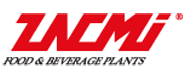 ZANICHELLI MECCANICA SPA ZACMI

- PACKAGING

Via Mantova 65 - 43100 Parma (PARMA) (ITALY)
Founded in 1954 in Parma by Giuseppe Zanichelli, Zacmi manufactures machines and complete plants for the food industry.More than 100 people work on a 37.000 m2 area, planning and manufacturing components and processing equipment for the food industry with high prototypal characteristics. Around 2000 customers and an adequate network of agents worldwide are evidence of our experience.The innovation capacity is continuous, creating new products and updating the existing ones. All this permits to offer highly technological equipment that can guarantee more precision, reliability and hygiene. Most Zacmi projects are patented.An high level automation is a feature of Zacmi equipment (SCADA systems, integrated systems for processing control, after-sale service through modem and internet, etc.) thus guaranteeing a perfect management.

Highest consideration and observance of the law in force (as for example: EN 292, EN 60204, 97/23/CE, etc.) and mutual benefit relationship with customers and suppliers.
INFORMATION
complete plants for the food industry
SCADA systems, integrated systems for processing control
CONTACT ZANICHELLI MECCANICA SPA ZACMI