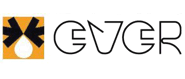 EVER srl
Via Pacinotti, 37 - 30020 Pramaggiore (VENEZIA) (ITALY)
For more than 30 years of business, EVER has distinguished itself for its updated and quality service to help solve all the problems that daily may appear. Our products always fit to any spacific need.

- SERVICE
- QUALITY
- TECHNOLOGY
- RESEARCH & DEVELOPMENT

These four points do summarize EVER's constant commitment to be a reliable partner to its customers.

INFORMATION
Beverage industry technologies
Food industry technologies