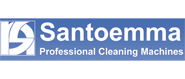 SANTOEMMA Srl

- PROFESSIONAL CLEANING MACHINES

Via Piave 22/C - 20016 Pero (MILANO) (ITALY)
Santoemma is an Italian Company, distributed in more than 70 countries, that since 1980 has been producing professional cleaning machines and systems. Santoemma products provide optimal and innovative solutions in diverse application fields.
Santoemma FOOD Processing areas cleaning program includes a range of machines designed for cleaning different types of surfaces in food processing areas such as: supermarkets, food factories, industrial kitchens.

All the models of the range allow to spray on the surfaces a cleaning and sanitizing dense foam and to rinse the same surfaces afterwards. Dense foam allows to optimize the chemical cleaning and sanitizing action.

Rinsing is performed at an optimal pressure, allowing to quickly remove the foam and dirt residuals. Rinsing at a controlled pressure avoids that any particle is jumping on other surfaces and prevents the creation of a haze of water vapors, which would keep in suspension the micro-organisms for several minutes. These micro-organisms would fall again on the surfaces after rinsing, affecting the efficacy of the bactericide action.

Some models of the range allow to vacuum the residual liquid as well, leaving the environments completely dry after cleaning operations.

The machines of Santoemma FOOD program can be used, according to the cases, with degreasing or acid chemicals. Laboratory tests certify that the application of Santoemma chemicals on a surface for 3 minutes allows to kill 99,9% of bacteria, confirming the effectiveness of their sanitizing action.
DOWNLOAD AREA
INFORMATION
professional cleaning machines
ISSA/Interclean Amsterdam, Pulire Verona