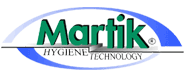 MARTIK srl
Via S.Daniele, 38 - 33030c Coseano (UDINE) (ITALY)
Martik srl is a producer of stainless steel (AISI 304) equipment and fittings that are HACCP approved for the food processing industry and pharmaceutical sectors.
By combining years of experience wit the application of technological innovations, Martik produces a very large and diverse product line that is modified to meet the requirements of each industry. All of the equipment is reliable and manufactured to the highest quality standards in strict compliance with every hygienic-sanitary law currently in force.
Martik uses only air and water as our manufacturing energy sources in order to guarantee the highest hygiene standards for both individuals and industry.


INFORMATION
Stainless steel equipment and fittings approved for the food processing industry
Stainless steel equipment for the pharmaceutical sectors
Hygiene for workers and farm