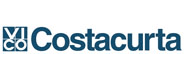 COSTACURTA S.p.A. - VICO

- WEDGE WIRE SCREENS

Via Grazioli, 30 - 20161 Milano (MILANO) (ITALY)
WEDGE WIRE SCREENS
Costacurta S.p.A.-VICO is an Italian company specialized in the design and manufacture of metal components for industry and architecture, serving markets worldwide, as the wedge wire screens
Our entire product portfolio originates from wire and plates.
We export most of our production and are suppliers to manufacturers of machinery used in various sectors including food, mechanical, textile, paper and wood.
We are also qualified suppliers of leading international companies that are involved in developing technology and providing engineering services and equipment for oil & gas, petrochemical and chemical industries.
Furthermore, we offer supervision during installation and assist our clients in the development of new products.
Costacurta produce wide rage wedge wire screens
The 'wedge wire screens' manufactured by Costacurta are called VICO-Screen®. The wedge wire screens VICO-Screen® is a filtering element made of V-sectioned wires, arranged in a parallel manner and welded to support bars or rods. It can be made with wires and supports of different shapes, s and materials to be able to resist different temperatures, pressures and corrosive or abrasive actions. The main features of the wedge wire screens VICO-Screen® are: high mechanical resistance, large open area, low tendency to clog. The wedge wire screens VICO-Screen® is designed for retaining materials, filtering and sieving. It has countless applications, mainly in the chemical, mining, pharmaceutical, plastics, paper and food industries. Of particular interest are the applications in the field of water, liquid effluents and industrial waste treatment, as well as in malt houses, breweries and distilleries.
The wedge wire screens VICO-Screen®
The VICO-Screen® is made by winding a continuous V-sectioned extruded wire helicoidally onto support rods. At each intersection, the V-sectioned wire is welded to the support rod by an electric resistance welding process. The VICO-Screen® has extremely precise continuous openings thanks to which a large open area is obtained. This, in turn, guarantees an extremely low pressure drop through the filtering surface. Thanks to this feature, the VICO-Screen® is ideal as a support or container for catalysts or resins and as a filter for sand or particles, even of extremely small dimensions. The high number of welds also gives the screen an extremely high mechanical resistance and a very long lifespan. The continuous openings and triangular section of the wires ensure that there are only two particle contact points, thereby minimising the risk of clogging. Additionally, thanks to the particularly smooth surface of the VICO-Screen® the abrasive effect due to contact between the product and the filtering surface is greatly reduced.
DOWNLOAD AREA
INFORMATION
Filtering elements and fabricated parts; conveyor belts; components for the oil, petrochemical and chemical industries
Bottling, packaging, food industry
110,000 m2 ground, 35,000 m2 covered
ISO 9001, ISO 14001, OHSAS 18001
Unione Industriali di Lecco
Costacurta b.v., Santpoort Holland
CONTACT COSTACURTA S.p.A. - VICO