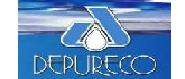 DEPURECO Spa
Via Michele Mitolo, 13 - 70125 BARI (BA) (ITALIA)
DEPURECO is a 40 years experienced company focused on environmentally friendly technologies aimed at providing cutting edge solutions for solid waste and wastewater treatment and for environmental reclamation. Since its foundation in 1975, in compliance with goals and plans set from the Company founders, DEPURECO has developed market-oriented technologies due to accurate and intense technical researches aimed at improving its own approach to design and build avant-garde facilities.
The subscription to SOA, OS22 category, the acquirement of both ISO 9001:08 and 14001:04 certifications as well as the cooperation experienced with the most well known and appreciated engineering companies, allow DEPURECO to have strong balance sheets along with solid technical knowhow.
DEPURECO'S business can be broken down by 3 units:
Studies and design
Plant construction
Management and maintenance
In a strategic and dynamic field such the environmental protection one, where technology plays a relevant role, DEPURECO undertakes studies and researches aimed at supplying customized solutions that allow environmental resources to be both efficiently allocated and recycled.
Our prestigious customers portfolio confirms the excellent quality of our job.