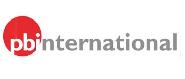 International PBI S.p.A
Via Novara, 89 - 20153 Milano (MI) (ITALIA)
International Pbi is recognized in Italy as the leading supplier for chemical-physical analyses and microbiological research products as well as products for laboratory research. The most important customers in Italy are laboratories for analysis, pharmaceutical companies, chemist, biotechnologist and public structures such as Universities. There are more than 30.000 different articles regarding the laboratory field. In Italy, "Omnialab" is the most complete catalogue for laboratory products that exist. The company was established in late 1956, for representing in Italy "Paul & Funke & CO.", a leading European manufacturer of equipment and consumable products for quality control in the dairy industry. From the success obtained in the dairy market, the company has developed experience in the agro-food, pharmaceutical, biotechnology, hospital and life science fields. The company became "Pool Bioanalysis Italiana S.r.l." in the middle 70s, and was converted into "International PBI S.p.A." in 1988. In Italy, International PBI is currently recognized as the undiscussed leading supplyer of laboratory products with a growing emphasis on international markets.
INFORMATION
Supplier for chemical-physical analyses and microbiological research products.
Products for laboratory research, quality control analyses.
Europe, North & South America, Oceania, Asia and Africa.
CONTACT International PBI S.p.A