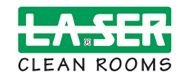 LASER SAS
Via Matteotti, 43 - 23879 Verderio Inferiore (LECCO) (ITALY)
Clean rooms are widely used in the food industry to guarantee the necessary hygiene during the preparation of foodstuffs and to reduce the need for the use of chemical additives as preservatives.
LA.SER boasts 27 years of experience in the sector and today has at least 400 customers world-wide, has completed 500,000 square metres of work, 4,000 clean rooms and thousands of furnishings.
LA.SER products are aimed at all sectors that require preparation in clean rooms or packaging in a protected environment; the work is performed exclusively on contract and studied based on the customer's requirements.
The services offered consist in the design, production, installation and maintenance of mobile walls, false ceilings, doors, furnishings and anything else that will be used in controlled contamination environments.
Amongst the many customers that LA.SER supplies, some of the most famous are: Wuber, Salumificio Beretta, Sanpellegrino and Yogolat.

INFORMATION
Productions in controlled contamination environments
UNI EN ISO 9001:2000 (VISION 2000)