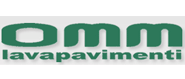 OMM LAVAPAVIMENTI SRL
Via Cantù 8/10 - 20092 Cinisello Balsamo (MILANO) (ITALY)
The OMM scrubber dryers and floor cleaning machines stem from 40 years of experience in the field of industrial and household cleaning and offer quality and safety guarantees.
The scrubber dryers, the new sweepers and the other OMM cleaning products have been studied and developed in order to satisfy every need for small and big areas cleaning.

It is not enough to have a nice look and a sturdy frame, but it is also necessary to provide ease of use, manageability, safety and simplify management and maintenance operation.
In addition to scrubber dryers OMM can also provide: sweepers, pressure washers, vacuum cleaners and detergents.
OMM is close to its customers with a vast storehouse for the immediate availability of original spare parts and with a network of dealers who can act in a timely manner, with great professionalism by offering a wide range of pre-and post-sale services (assistance, rent, etc.)
We design machines capable of solving problems of cleanliness in different conditions of use and on any kind of surface, wire-powered or with battery: walk behind or ride-on scrubber dryers for small or large areas.

CONTACT OMM LAVAPAVIMENTI SRL