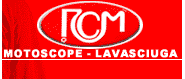 RCM SPA
Via Tiraboschi, 4 - 41041 CASINALBO (MODENA) (ITALY)
RCM has manufactured industrial cleaning machines since 1970. It was one of the first Italian companies to design and manufacture mechancial and vacuum sweepers. RCM today produces a complete range of sweepers, scrubber/driers and street cleaning machines.

RCM not only designs and assembles its machines but also manufacturers the chassis. This system allows RCM to control the quality of all machine parts using modern robotic cutting, bending and welding machinery.

Machines to increase the performance
and decrease the cost of cleaning:
- sweepers to pick up all kinds of debris from the ground without raising dust.
- scrubber - driers to wash and dry all types of floor in one pass.
- street sweepers to pick up debris quickly from pavements, arcades, cycle paths and all pedestrian.