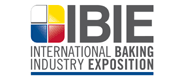 IBIE
18 - 21 September 2022
Las Vegas - NEVADA - USA (AMERICA)
Is known worldwide as the event that offers complete equipment, ingredient and supply solutions to serious baking professionals. Directors and managers from every segment of the grain-based food industry count on IBIE for the new technology, products, strategies and information they need to stay competitive in all aspects of their operation.
Welcoming baking industry professionals from every segment and in every role, IBIE delivers a world of benefits in one streamlined event. What do you need to enhance your efficiency, sharpen your skills and elevate your career? It's all here at the largest, most comprehensive baking industry event in the Western Hemisphere. Every three years, you have a powerful opportunity to discover the latest trends and innovations, connect with colleagues and exchange ideas with top baking and business professionals. Mark your calendar for September 7-11, 2019 and join the global industry leaders in Las Vegas to capitalize on the big opportunities only found at IBIE.
The Western Hemisphere's largest, most comprehensive baking event attracts a broad range of industry professionals from all over the world, presenting you with a big opportunity to generate leads, strengthen your brand, showcase your products and close deals. Tap into a marketplace of qualified buyers from every segment of the global grain-based industry—and connect with new business, increased sales and exponential growth. Make your plans to exhibit at the 2019 event in Las Vegas where you can grow your business in one cost-effective trip.
A GROWING GLOBAL NETWOR
IBIE is your best opportunity to connect with baking professionals and manufacturers from around the world. In 2016, international attendees represented more than 100 countries and 30 percent of total attendance, opening the door to large-scale growth opportunities.
A MARKETPLACE OF INNOVATIO
More than 1,000 leading manufacturers and suppliers fill IBIE's 700,000 sq. ft. show floor with the full range of products and resources: production equipment and baking supplies, ingredients, packaging materials and systems, refrigeration systems, sanitation equipment, computerized technologies, transportation and distribution equipment. See how innovative advances are impacting business in every product category, including: rolls, cookies, sweet goods, tortillas, snack foods, cereals, biscuits and crackers, and more.
A SOURCE FOR EFFECTIVE STRATEGIES

IBIE's world-class educational program is targeted to baking industry opportunities and challenges, and divided into specialized tracks, so you can identify opportunities and challenges, exchange ideas with colleagues and discover new strategies to implement immediately in your business. See the IBIEducate program here.
AN UNFORGETTABLE EXPERIENCE

As the trade show capital of the world, Las Vegas is a convenient destination, with a variety of accommodations and amenities to help customize your experience according to your budget and needs. Outside of the show, the fine-dining and entertainment options are second to none. Plan ahead to take advantage of exclusive hotel rates and valuable travel discounts for IBIE 2019.
ORGANIZER
SMITH BUCKLIN & ASS.
401, N. MICHIGAN AVENUE
60611 - CHICAGO
USA (America)