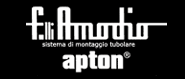 F.LLI AMODIO snc
Viale Monza, 177 - 20126 MILANO (MILANO) (ITALY)
The company F.lli Amodio snc was born in the sixties thanks to the will and the spirit of initiative of the founding partners, Giuseppe and Mirocleto Amodio, still to the top companies, who start their activity in the field of signs and decorations advertising on motor vehicles.




During the economic boom of the seventies the scope of action expanded to the trade fair, thanks to the acquisition of the apton assembly system, which for versatility and mounting and dismounting speed revolutionizes the way of working in exhibition halls.


Over time, the apton system has spread to other areas such as furniture, advertising and accident prevention. Today, the company's production orientation focuses mainly on the sale of treated materials.


The network of resellers and collaborators in the various production sectors allows the realization of any type of work on most of the national territory.