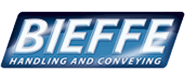 BIEFFE CO SRL
Via dei Prati, 32 - 14053 Canelli (ASTI) (ITALY)
The BIEFFE company manufactures conveyor belts for machine servicing.



As a result of the success achieved with the entrepreneurial vision of these choices, Bieffe diversifies its reference markets by dedicating itself to other sectors such as mineral waters and food in general.

In addition to the table-top conveyor belts, the company extends the service offered and begins the production of straight and curved conveyor belts, modular rug and knobs, roller conveyors, tampon elevators and articulated continuous shelves, storage and decompression tables

.

The diversification of production allows Bieffe to develop sophisticated machines for the packing of palletizers and palletizers, such as multi-threaded shoe diverter and dynamic dividers, always tested in test circuits.