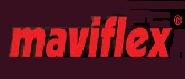 MAVIFLEX
8-14, rue Vaucanson - 69150 DECINES (FRANCE)
Fifteen Patent applications in 3 years period make Maviflex
one of the leader in traffic doors
.
We have experience based on Competent Maviflex service staff is available to answer your questions or concerns.
The Maviflex range of industrial, commercial, freezer and hygiene sensitive traffic doors fully conforms and exceeds to current technology and legislation
Maviflex customises its
Industrial and commercial door range
to meet your specific needs and to meet the most effective solution.
Maviflex manufactures
High-Speed Doors
and
Traffic Doors
in help you make the most of your investment.
Maviflex has built a strong reputation for quality, durability and safety with one target :
THE FULL TIME OPERATING SERVICE.
Maviflex offers the level of knowledge and expertise only associated with a large, well established Company, allowing you confidence and reassurance.