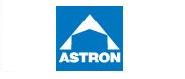 ASTRON BUILDINGS S.A.
P.O. Box 152 - L-9202 Diekirch (LUXEMBOURG)
Building System - Leading European supplier of steel building systems Astron European leader in steel buildings for commercial and industrial applications. Strong European presence through local offices and extensive Authorized Builders organisation. This network of construction professionals offers: All services to build turnkey projects After-sales service and maintenance International construction service for multinational investors Manufacturing plants in Luxembourg, Czech Republic and Hungary Quality certification to ISO 9001:2000 (TÜV Bauqualität, SOCOTEC Qualité) National approvals in all Western and Eastern European countries More than 40,000 reference projects Nearly 1,000 employees Over 40 years experience Construction - Speed of construction Astron Building structural design, drawings, Bills of Materials, are quickly generated with advanced CAD programmes. Components are factory-produced on automated production lines. Foundations are prepared as building components are produced. Assembly on job site is simple - bolted or screwed connections, no welding, little site cutting or modification. No "wet" work. All parts are cut-to-length, pre-punched and individually identified. "One-source" supply provides co-ordinated deliveries and component compatibility. 35,000m² logistics centre erected in only 5 1/2 months with 16 erectors.
CONTACT ASTRON BUILDINGS S.A.