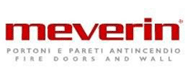 MEVERIN Engineering Srl
Strada della Pace, 36 - 43055 Mezzani (PARMA) (ITALY)


Meverin, in 1983, is first established as a metalworking company and later specializes in and focuses on the field of fire separation in general.

Since 1994, the company has been focusing on the research and production of special fire-resistant, custom-made, fixed or movable products that are similar to tailoring.

The guarantee of a unique product, studied ad hoc, coupled with a highly automated and just in time production, the times of creation can only be assimilated to those of a serial manufacture.
Meverin therefore decides to devote his own analysis and efforts to the study, research and realization of a concrete product that could best meet market expectations and be fully tailored (0% STANDARD).

The key point of Meverin's choice to face the arduous path of achieving a product capable of meeting the needs of the market, in addition to the primary and obvious interest in preserving human life, has always been to protect the extensive historical heritage, Artistic and cultural culture that our nation offers, that is to go to offer its service where there is a wealth of such importance to be compulsory, both for morals and norms, sheltered (the artistic heritage of Italy, due to Historical, political, and administrative events has always been subject to fire risk).

Meverin Fire Fixing® products are therefore studied in such a way as to assert the reference regulations on prevention and protection of the safety and health of humans and the preservation of historical, artistic and cultural heritage in the event of a fire event.

Meverin, as mentioned earlier, specializes in large and special compartments in general, that is, all that is considered "out of the ordinary" (hence the company's name at 0% STANDARD) by turning its product As a response to the needs of the market and the special requests of designers, architects, designers, qualified entities etc.

The Meverin mission is therefore to work by fully respecting the cultural heritage identity of the building by adapting to the site, proposing a customized, non-standardized element.

Meverin Fire Fixing® doors must be at the service and not at the limit of the architectures in which the doors will be installed.
Meverin Fire Fixing® products are aimed at highly specialized technical companies.

Along with the massive fire proof testing and certification test, imposed by Italian and European legislation on fire compartmental compartmentation, Meverin has always been busy maintaining a high efficiency and a high quality standard of products, process Management and production process, in order to improve the efficiency and efficiency of product realization by gaining and increasing user satisfaction.

This standard is certified by the quality management system UNI EN ISO 9001: 2008, which provides support in the conduct of major business activities such as research, design, development, supply, installation and maintenance.

Meverin, the leader in special and tailor-made fire compartmentalization, was the result of a tight search for a product for safety, which would allow for discreet development, research and innovation, and which could be based mostly on arguments Technical / commercial definitions.
CONTACT MEVERIN Engineering Srl