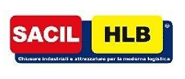 sacil - hlb srl
via marmolada, 12 - 20095 Cusano Milanino (MILANO) (ITALY)
Sacil Hlb Officine di Cormano born in 1927 after the acquisition by Officine di Cormano of two historical brands, leader in the industrial doors and logistic solution fields: Sacil located in Cernusco sul Naviglio (MI) and HLB located in Genova (GE).
Over the years it has grown from a high quality hand-made production (wrought iron, fences, gates etc.) to a controlled industrial production thanks to the continuous and unceasing investments in equipments for the design and production. Among the most important and historical works let us remind: Milano Gallery, Central Station of Milano, Monumental Cemetery of Milano, The red line of the Milan's subway, many Fiat plants, Alfa Sud, Grandi Motori Trieste, Roma's subway and Torino's subway and much more. More that the standard products we can claim construction of "special" products such as Hangar doors of width 120 meters by 12 meters high, rapid roll doors up to 25 meters wide, steel wharehouse of about 2/3/4 thousand meters of surface, external sliding doors 20 meters wide, train passage and storage flexible doors and many other high quality jobs.
At the moment we can claim the widest National range of products studied and designed to close, separate, isolate every type of industrial or commercial space as well as a complete range of components for the construction of modern and functional loading docks and mobile wharehouses of each type and . We can propose to all our customers products completely designed, made and tested in the Italian workshop in Cusano Milanino that develop a total area of 15.000 sm. Every products is made accordingly to the European rules and supplied with a complete technical and commercial documentation and the assistance is granted for at least 10 years.