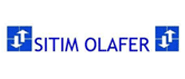 SITIM OLAFER
Via Monte Cervino, 57 - 20011 Corbetta (MILANO) (ITALY)
The SITIM founded in 1966, is one of the leading Italian companies in the design and manufacture of storage systems for every kind of material.
The long presence on the market, the acquisition of thousands of customers in Italy and abroad, the opportunity to intervene more quickly and successfully, allowed the SITIM OLAFER to acquire a professionalism and a remarkable operational capacity.
The goal of our company is to then win the trust of its customers by providing personalized advice, quality products and regular care services in order to create an ongoing relationship over time.