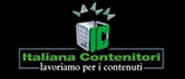 ITALIANA CONTENITIORI SRL - Movimentazione e trasporto
Via Grangia Marin, 80 - 10094 Giaveno (TORINO) (ITALY)
Founded in 1981 in Sant'Ambrogio, Torino, Italiana Contenitori moved to the present 20,000 square meter plant in Giaveno in 1990 in order to face the increasing demand of the market. Right from the beginning, Italiana Contenitori develops machinery and equipment on its own to be more competitive, to standardize the products and to meet its customers needs. A large production capacity, a strong know-how in addition to the well-known product quality place Italiana Contenitori at the top of the domestic market.
A demanding and constantly evolving market requires a proper structure that permits to develop solutions to existing problems and propose innovative products that can support customers in their future challenges.
Our technical staff designs and manufactures any product related to steel wire and tube processing technologies by developing internally all the necessary equipment.
Every standard product can also be modified according to customer's needs.
As evidence of this, over the past three decades more than 1000 special products have been designed.
Internationally oriented, Italiana Contenitori built a sound business structure that covers the whole of Europe, from Russia to Portugal.

Since 2005 a warehouse has been operating near Paris for the distribution of the products throughout the French territory.
CONTACT ITALIANA CONTENITIORI SRL - Movimentazione e trasporto