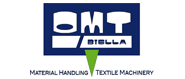 OMT BIELLA
Via Piave, 4 - 13852 CERRETO CASTELLO (BIELLA) (ITALY)
OMT BIELLA S.R.L. is an engineering workshop that was established in 1963.
The Company has considerable know-how, acquired in over 40 years of business, in the design, construction and installation of handling systems for the textile industry.
OMT BIELLA S.R.L. has customers in all five continents.
Utilizing the experience acquired in industrial textile handling, in 1998 OMT BIELLA decided to diversify its product line and to branch out into the sector of internal industrial handling.

INFORMATION
HANDLING SYSTEMS, INTERNAL HANDLING, HANDLING MACHINES, HANDLING OF GOODS