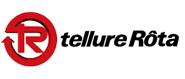 TELLURE RÔTA

- WHEELS AND BRACKETS

Via Quattro Passi, 15 - 41043 Formigine (MODENA) (ITALY)
Casters & Wheels food industry
Tellure Rôta was established as a small business in 1950 by its founder and current president, Roberto Lancellotti. In 1953, the company specialised in the production of wheels and brackets.
Over the years it increased its production capacity – with the same number of employees – from 2,000 wheels and brackets per day in 1972 to 30,000 in 1995, organising manufacturing with automated systems and production lines.
The company began distributing its products abroad in 1961. It started making major investments to increase foreign market penetration in 1989. In 2000, the subsidiary Tellure Rôta do Brasil was set up, headquartered in Sao Paulo, Brazil.
In 1996 it obtained ISO 9001 quality certification (ISO 9001:2000 since 2002), adding ISO 14001:2004 quality certification in 2005 and OHSAS 18001:2007 H&S certification in 2009.
Today, the company has 15,000 square metres of covered production space and a sales presence in 57 countries around the world, offered by a dynamic and widespread sales network made up of distributors, commercial partners and affiliates.
Thanks to its commitment to continuous improvement of its products and its innovative solutions for movement and handling problems, Tellure Rôta is recognised on the international market as one of the most significant manufacturers and distributors of wheels and brackets for industrial, civil and home use.
INFORMATION
Wheels and castors for industrial, institutional and home applications
ISO 9001:2000 ISO 14001:2004