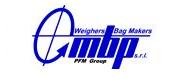 MBP - WEIGHERS & BAG MAKERS SRL - GRUPPO PFM
Via Toscanini, 48/B - 46043 Castiglione delle Stiviere (MANTOVA) (ITALY)
Founded in 1980, MBP joined the PFM Group in August 2002 and is based in Mantua. MBP is specialised in the design and manufacture of multi-head and linear weighers, Form Fill Seal type vertical packaging machines, and can, carton and tin filling and capping machines. Europe, Russia and the Middle East are the outlets for its products. The MBP range of multi-head weighers mount 8 to 24 heads. Weighers are available with pull-out, interchangeable sections, Step motors and IP65 protection ratings. In 2006 the revolutionary C2 series of weighers was launched which features the highest standards of technology available on the market in their design concept, speed, precision and performance. The Multi Cip, a patented system for the automatic washing of multi-head weighers, is also amongst their latest projects. In the vertical machine sector, further improvements have been made to the CTC 400-600-800 as well as to the Kar 24 filling/sealing machines. The degree of innovation introduced with these applications requires continuous study and upgrading by the technical department, both independently of and in conjunction with PFM. Likewise, the after-sales servicing department works independently of and in conjunction with PFM and may also operate remotely using the Teleservice system. MBP's turnover has seen an increase of 20% a year and 5% of the total turnover is ploughed back every year into research and development.
INFORMATION
Multihead weighers and vertical wrapping machines
Production of packs from a reel of heat-sealable film.
bakery, confectionery, preserving, meat, dairy and non food industries
CONTACT MBP - WEIGHERS & BAG MAKERS SRL - GRUPPO PFM