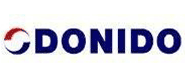 DONIDO
South Industrial Zone - 6300 Haskovo (BULGARIA)
DONIDO is the biggest producer of equipment and lines for the dairy industry in Bulgaria.
With its consecutive development policy and the proposed solutions we became a goldstandard for the industry.
The trademark DONIDO is present in almost every Bulgarian dairy company.
There are 240 highly qualified specialists in the company, who are working in all the different fields of the whole technological process.
The design departments are supplied with contemporary 3D computer design systems (CAD/CAM) which allow them to take the correct decision in the beginning phase of the planning and to create the best option for the client.
DONIDO® guaranties final product corresponding to the highest technical and hygiene requirements, conformable to the individual vision and main characteristics of the region.
The production facility in Haskovo, Bulgaria is equipped with modern machinery and technologies that guarantee quality of the products.
The engineering structures perform precise and quick installation at every part of the World.
Highly qualified technologists complete the start up of the lines and consult the customer till the projected capacity of the line is achieved.
Customer service is our highest priority. Milk is a delicate raw material which requires care and devotion.