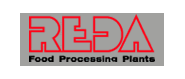 REDA SPA
Via Piave, 9 - 36033 Isola Vicentina (VICENZA) (ITALY)
Reda is involved in process engineering development and provides technical and technological support to its customers. Using the most up-to-date CAD applications and electronic testing facilities Reda can produce the highest quality products.
Design details and manufacturing methods are constantly being improved and new materials selected and carefully tested. With Reda products, even the most difficult problems can be solved to the satisfaction of the customers.
All Reda products are designed for simple and easy operation, cleaning and maintenance and are built to last.
Therefore Reda can say that its equipment stands the test of time, thanks to this simple but most important concept: quality.


INFORMATION
Food processing technology
Milk and by-products, wine and must, fruit juices and eggs processing