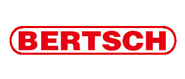 BERTSCH gmbh
Herrengasse 23 - A-6700 Bludenz (AUSTRIA)
1925
Foundation of the parent company by Josef Bertsch, a master coppersmith.
1931
Equipment construction for the drinks industry and foodstuffs processing, as well as the construction of high and low-pressure steam boilers.
1934
Manufacturing begins at new production site, built at the site of today's corporate headquarters.
1962
First water-tube high-pressure steam boilers and combined heat and power systems construction.
1963
Opening of the Vienna sales branch.
1970
Expansion of capacity with production facilities in Bludenz/Nüziders.
1980
Awarded the right to bear the official coat of arms of the Republic of Austria.
1994
Foundation of Bertsch-Laska Produktions und Handels GmbH, featuring sales outlets in a number of countries inEastern Europe.
2000
Innovation of waste heat recovery and waste heat technology using modular systems.

INFORMATION
Equipment construction for the drinks industry and foodstuffs processing
Construction of high and low-pressure steam boiler