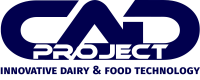 CAD PROJECT SRL

- COMPLETE LINES FOR THE DAIRY SECTOR

Via Leopardi 19/E - 28060 S. PIETRO MOSEZZO (NOVARA) (ITALY)
Complete lines for the dairy sector
Cad Project was founded in 1996 as a design office of plant and machinery for the dairy industry.
Today designs, manufactures and installs machines and complete lines for the dairy sector, the aging portioning of each type of cheese due to its aging plants and portioning.


Through the use of innovative technology and design, the know-how of the technical staff and the high degree of specialization achieved in these years, Cad Project ensures aging plants and portioning tailored.

All complete lines for the dairy sector are studied carefully in such a way that the traditional production techniques are based with those of automation.

Cad Project is a dynamic company that works closely with customers to meet every request, addressing and resolving any problems.

The machines and complete lines for the dairy sector are modern, designed and built with the criteria of practicality and low maintenance.
Today Cad Project in the dairy sector is leading ultrasonic cutting and fixed weight, boasts a wide range of innovative machines and systems, also for seasoning - salatrici, drilling, salting, brushing, peelers - and wrapping machines.
https://www.youtube.com/channel/UCwzLLvtCSe_F-jEVJXWB4RA
INFORMATION
Design, manufacturing and installation of machines and plants for dairy and food industry.