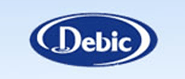 Debic Friesland Foods Professional Italy s.r.l.
Via Piave 12 - 37060 Nogarole Rocca (VERONA) (ITALIA)
Our dairy farmer members, the development team, representatives and culinary advisors work together to form a strong team with a passion for two things: dairy products and you, the foodservice professional. What has made our dairy company so special for nearly a century? The fact that we manage the entire chain: from milk production to the finished product, from grass to plate.
As a result, Debic has become the reference brand in dairy products for bakers, pastry chefs, chocolatiers, chefs and caterers. But we take it that one step further by being a fully-fledged partner that understands your needs. A partner that helps to make your everyday activities more efficient, so that you can really shine in your kitchen or workshop. This translates into pure enjoyment, for you and your satisfied customers who keep coming back for more. To do this, we work closely with you to keep pushing the boundaries.
CONTACT Debic Friesland Foods Professional Italy s.r.l.